Informacje szczegółowe
Easily Expanding Home Wireless Coverage with Dual-Band Technology
ZyXEL's WRE6505 Wireless AC750 Range Extender provides wireless coverage throughout your home. Just plug the unit into a power outlet, and LED lights will indicate signal strength so you can place it on the optimum spot. The one-click Wi-Fi Protected Setup (WPS) setup simplified installation while a built-in Ethernet port provides instant network connection to multiple wired devices.

Expand wireless coverage easily

The ZyXEL WRE6505 extends and broadens your 802.11 a/b/g/n/ac wireless network coverage by eliminating dead spots for whole-home coverage. It allows you to enjoy the fastest video streaming, gaming and Web browsing on tablets, laptops or smartphones anywhere in the house, and it's backward compatible with all your current 802.11 a/b/g/n routers and access points.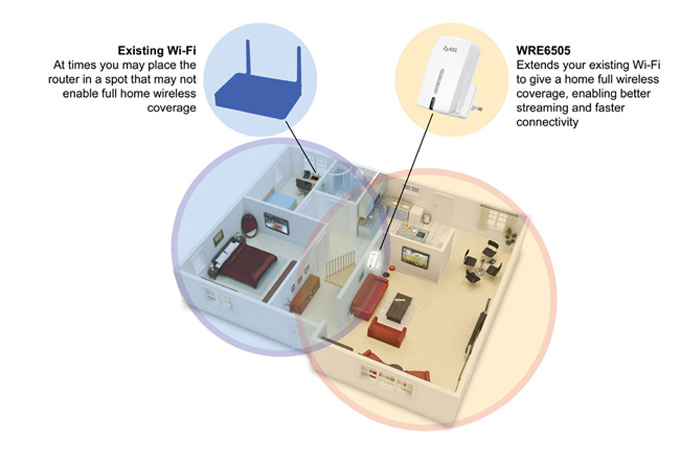 Dual-band technology with "Speed/Range Boost" for advanced performance

The "Speed Boost" and "Range Boost" modes of the ZyXEL WRE6505 help establishing interference-free, optimal throughput as well as coverage. Choose the "Range Boost" mode for maximum wireless coverage or "Speed Boost" mode to prioritize speed over coverage.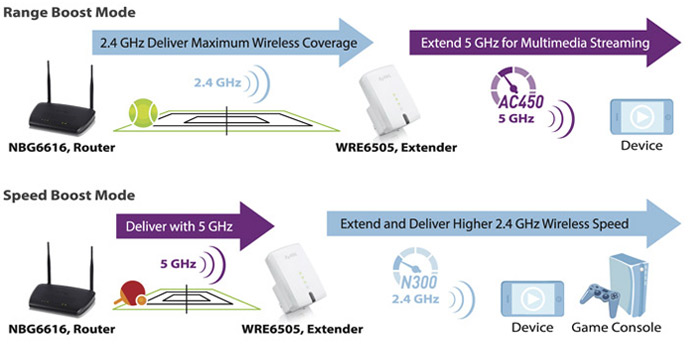 Compliant with 802.11ac with dual-band concurrent wireless

The ZyXEL WRE6505 is backward compatible with all your current 802.11 a/b/g/n routers and access points; and it helps to transmit signals using the less-crowded 5 GHz band for smooth streaming and low latency for games.





Compact wall-mount design for convenient deployment

The ZyXEL WRE6505 has been designed to allow flexible deployment, giving you the best wireless coverage and performance while eliminating the unsightly wires. Additionally, the device offers LED of three colors (red-good/amber-better/green-best) to indicate the signal strength for optimal Wi-Fi coverage. You can install it at the location with the strongest wireless signal to extend wireless coverage and enjoy your high-speed wireless network throughout your home in minutes.